2015.11.18 Wednesday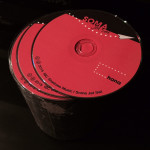 Tomorrow I leave for Memphis. But tonight I have a big announcement!
IBC Shadows Music is very pleased to announce a troika string of dates to celebrate the release of Soma Jet Set's fantastic new album, "hana". Here are the confirmed dates:
Thu Dec 3 from 7-9pm: SOMA JET SET "hana" LISTENING PARTY at Tick Tock Tavern, 3459 Magnolia Ave, STL MO 63118. Admission is FREE. We will spin the new album a few times, chillax and shoot the breeze. Yahtzee, Twister and Settlers of Catan are other possibilities.
Fri Dec 4: SOMA JET SET "hana" DROP DATE. The album will be released globally online. It will be available for both downloading and streaming. Prepare your listening devices!
Sat Dec 5 from 9pm-12am: SOMA JET SET "hana" RELEASE PARTY at Schlafly Tap Room, 2100 Locust, STL MO 63103. Teenage rockers, Million Hits will kick off the night's music at 9p, followed by melodic punk-rockers, Breakmouth Annie and then, the main attraction, Soma Jet Set will close the evening out with their dirty water rock'n'roll. Admission to the show is FREE and open to ALL AGES, although minors must be accompanied by an adult. We will have professionally pressed CDs of "hana" on-hand along with other merch and probably some giveaways as well! I like giveaways!
Yay for new music! Yay for rock'n'roll!
\mm/
#newreleases #stlmusic #ibcshadowsmusic #somajetset #hana #songwriting #greatsongs #shlaflytaproom #breakmouthannie #millionhits #millionhitsband #newalbum #albumrelease #recordlabel #recordingstudio #birthday #stl #stlouis #stlouismusic #localmusic #buzzfeedmusic #livemusic #stltoday #newmusic #landoftheloud #lemay #tombaker #raisedonchuckberry #landofchuckberry #musicforlife